Ever since iBooks became a hit on the iPhone and iPad, it's no surprise that Apple has brought the popular book reading app to the Mac. Mavericks includes iBooks as a standard application, allowing you to read and browse books in a dedicated program rather than using iTunes – where your e-books previously sat rather uncomfortably.
Reading on the Mac might not be quite as compelling as on an iPad, but the interface is good and easy on the eyes (there's even a night mode). The great thing is that thanks to iCloud, wherever you get to in a chapter or page is synced across every device you own, so you can start reading on your Mac and then continue from the same place on another device.
Open iBooks
To get started, open iBooks from the Dock. You can also find it quite easily using Spotlight, or from within the Applications folder on your Mac.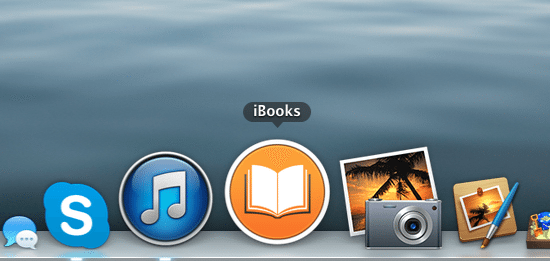 You can find iBooks in your Mac's Dock
When opening iBooks for the first time, you might see a message informing you that your existing books have been moved from iTunes. If not, don't worry as you can move them manually anyway (from the Filemenu).
Your iBooks Library
Once you've opened iBooks, you'll see all your books displayed. Across the top menu bar is a search box (just type anything to search the books), in addition to a group of 5 buttons to view the books in various ways – e.g. by Collection, Author or category, as well as just a plain old list.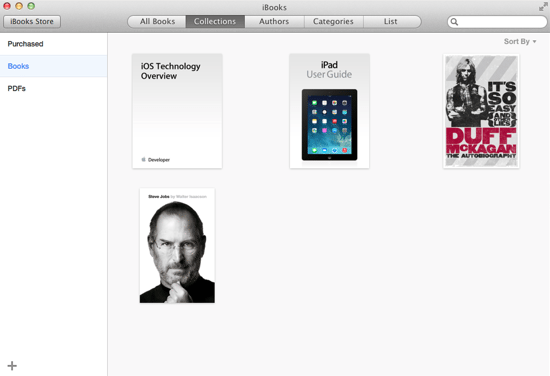 The main iBooks window shows all the books you've downloaded
There is also a Sort Bybutton located just below the search box – select that to change the view according to your preferences: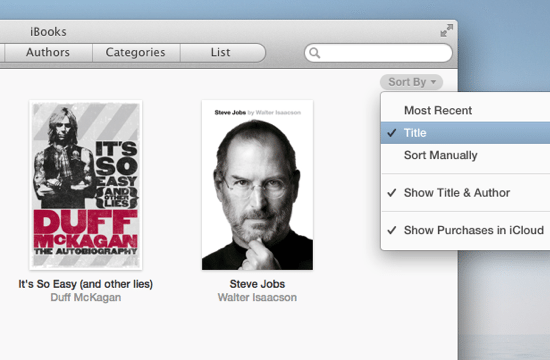 Your digital books can be sorted in several ways, such as Title or Author
You'll notice the option to show purchases in the cloud – this allows you to view books you've purchased but may have deleted from your Mac – however they're still available to download any time, and means that you can delete them safely (saving valuable disk space) but re-download them at any time. The option is useful to remind you which books are stored in iCloud.
You can also enable this option directly from the Viewmenu (plus options for sorting). You'll notice that books stored in iCloud have the small iCloud icon displayed in the upper right corner: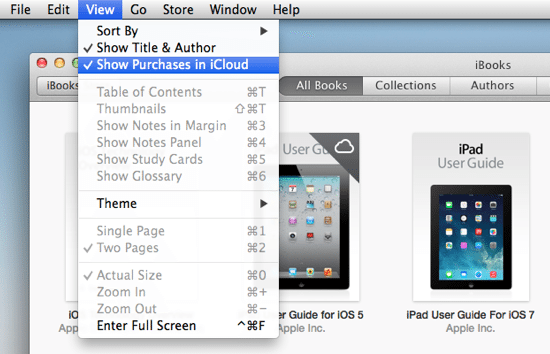 Select this option to view all the books you own in iCloud
Organising Books
iBooks makes it easy to organise your books into collections. These are simply groups that help you to organise things the way you want. To make a new collection click the little "+" arrow that appears at the bottom of the left side panel, or just right-click a book and choose New Collectionfrom the menu  – it will appear instantly appear in the side panel where it can then be renamed. Next, choose a book and use the Add to Collectionoption.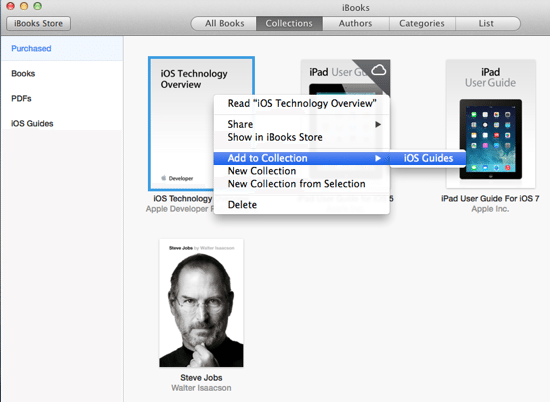 Create a collection, name it and add any books you want…
The selected book is added to the specified collection, and will become visible when choosing the Collections view from the menu bar. It's a convenient way to organise your books, especially if you have a growing collection…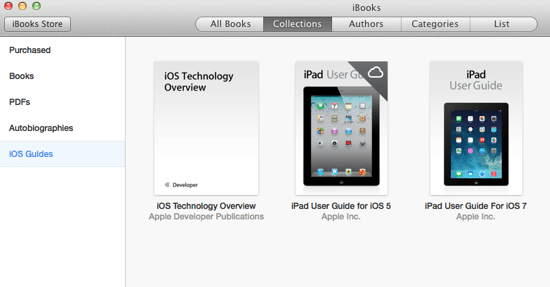 Choose the Collections button to view all your collections in the left panel
Viewing Books
To open a book and start reading, just double-click any book or right-click and choose  Read. The book itself opens in a new window (you can also go into fullscreen mode using the standard icon which appears in the far upper-right corner of the window).
Once the book opens, you'll see a simple and uncluttered interface with a few buttons at the top that fade out when you move your mouse over the pages themselves. You can scroll through each page using the left and right arrow keys.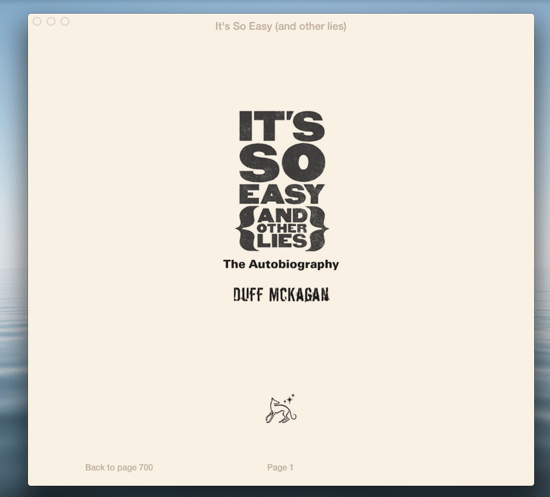 Double-click to open a book and start reading
Move your mouse to the top of the book to display the menu icons. The leftmost one takes you back to your iBooks library, the middle one opens the table of contents (shown below), and the third one opens the Notes panel. You can select any item in the table of contents to navigate directly to that part of the book.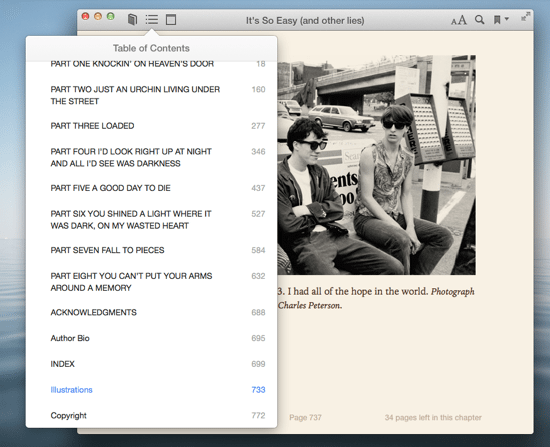 Move your mouse to the top to view all the various buttons and options
Notes and Highlights
You can also highlight a block of text your books simply by dragging the mouse – a menu then appears that allows you to add a note, change the highlight colour or underline the text. There are also a few more options (under More) – such as sharing to Mail or Facebook, searching, or even getting your Mac to speak the selected text.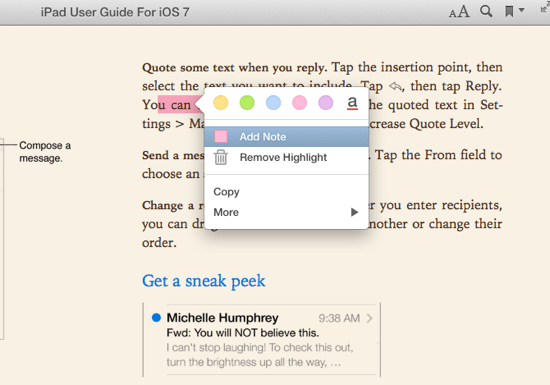 Add notes, highlight, share and even get your Mac to speak
Viewing highlights and Notes is simple – just click the Notesbutton (the third one on the left) on the main menu bar to open the notes side panel. From here you can search notes or just navigate to them by clicking on the page number next to each one. You can easily annotate each note or highlight – as you can see in the image below, just click on the "Add note…" text.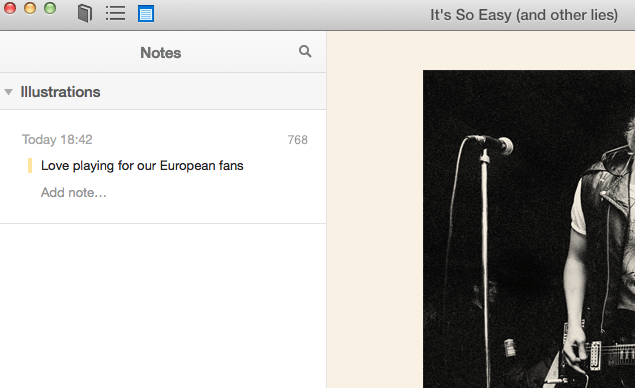 View all your notes and highlights
Bookmarks
To create a bookmark, select the small red icon on the menu bar, or alternatively use the down arrow next to the icon to view those you've already saved. The nice thing about bookmarks is that they sync between every Apple device you own.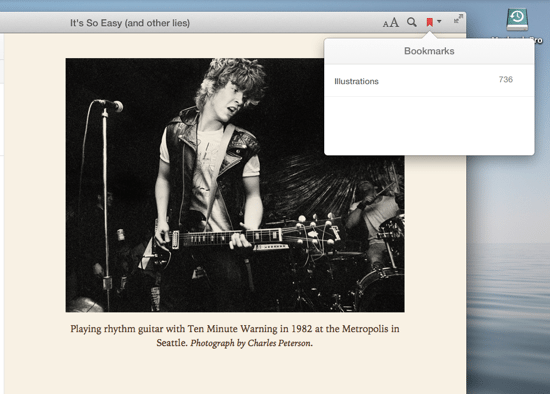 Create and view bookmarks you've created on any device
Fonts and Themes
It's also possible to customise the font, its size, and the theme. Select the "aA" button to view the available options. There are a couple of good themes already built in – plain white (which is the default), sepia – my favourite, and night mode, which is slightly easier to read in the dark.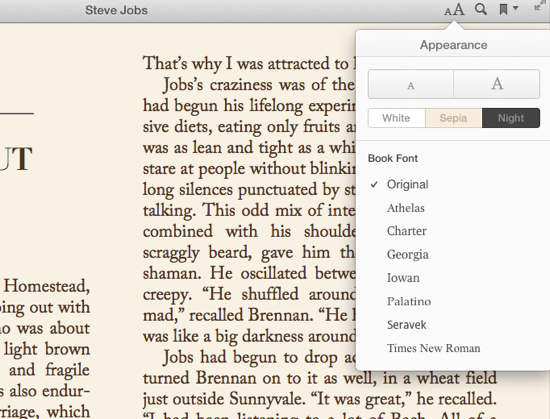 Change the font, size and theme
The iBook Store
Of course, the best place to purchase digital books is through the iBook Store. All you need is a valid Apple ID (which is normally any email address that you choose – it doesn't have to be an Apple one). To open the store, click the book icon on the left of the menu bar – you may need to enter your Apple ID and password if prompted:

Sign in to iBooks to be able to make a purchase
Once you've signed in, you'll be presented with a familiar-looking interface that takes many of its cues from iTunes. There's the usual array of options such as Featured, Top Charts and Top Authors, as well as the choice of Paidor Freebooks in addition to a search prompt. It's actually very easy to navigate the store, and you can select each book just to view more details (such as reviews and ratings) or make a purchase.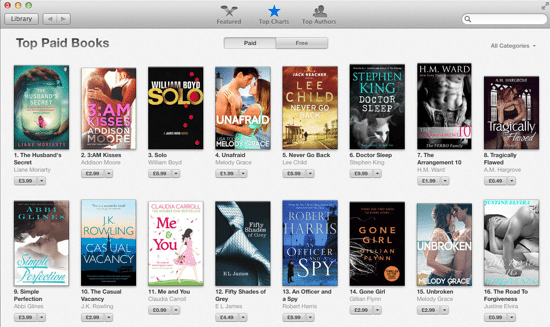 The Apple iBook Store is a great way to purchase digital books
One particularly nice feature is the ability to obtain a sample of any book. As shown below, just choose " Get Sample" to download a free sample to your Mac – great if you want to have a quick read before making a decision whether to buy or not.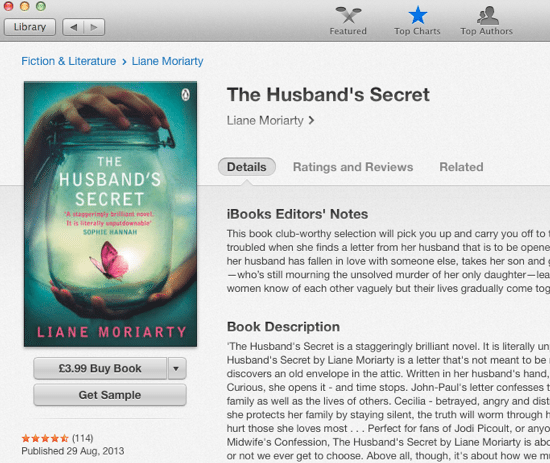 You can also view book samples in the store
Once sample books have been downloaded, they appear in your library just like regular books (albeit with the word  sampleemblazoned across one corner). From here you can view the book just like any other in your collection.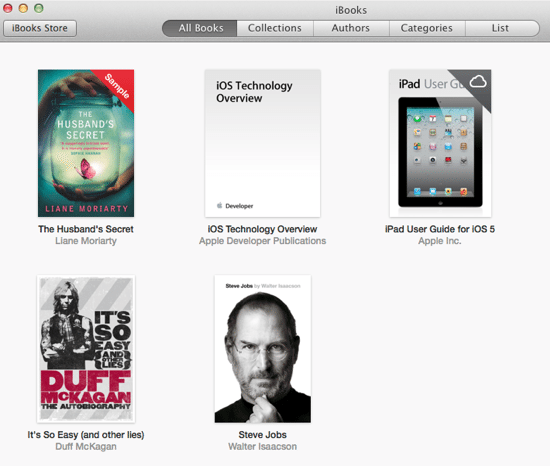 Free book samples can easily be downloaded to your library
Right-clicking any sample book displays the available options – for example to read the book, add to a collection or simply delete it.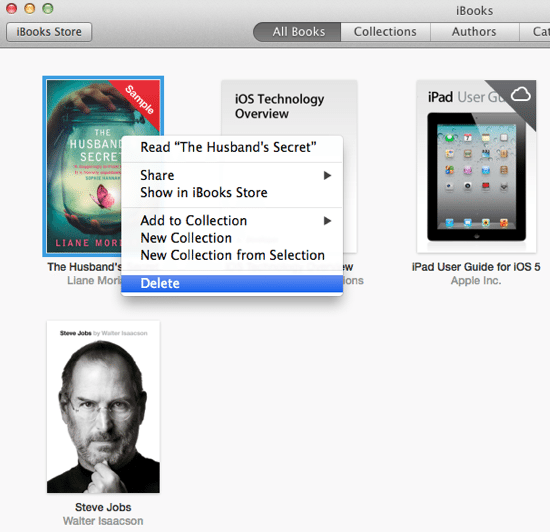 Right-click on the sample to view options
And with every book (not just samples), there's the option to share a link and comments to Facebook, Twitter, Messages or Mail: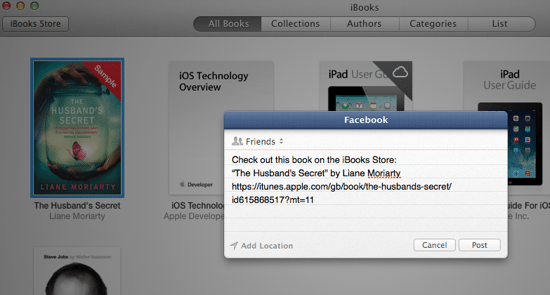 Share a link to the book to Facebook, Twitter, Messages or Mail
Unlike regular book downloads, sample books also conveniently display an icon to buy the selected book.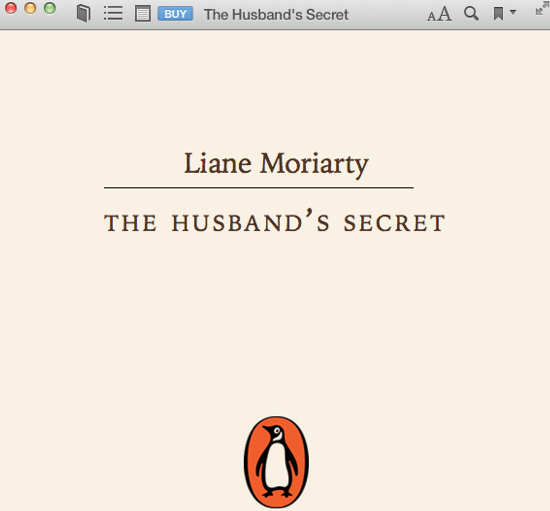 When reading a sample book, the option to buy the full version is highlighted
Overall, iBooks is a great way to find interesting reading material. There are thousands of books in the store, and the ability to view free samples is a nice touch. As a built-in app that comes free with Mavericks, iBooks just might encourage you to read a bit more, and although reading on a computer isn't usually as comfortable as using an iPad, it's a welcome addition to the first-party apps provided by Apple.